Cycle, Cyclist & Cycling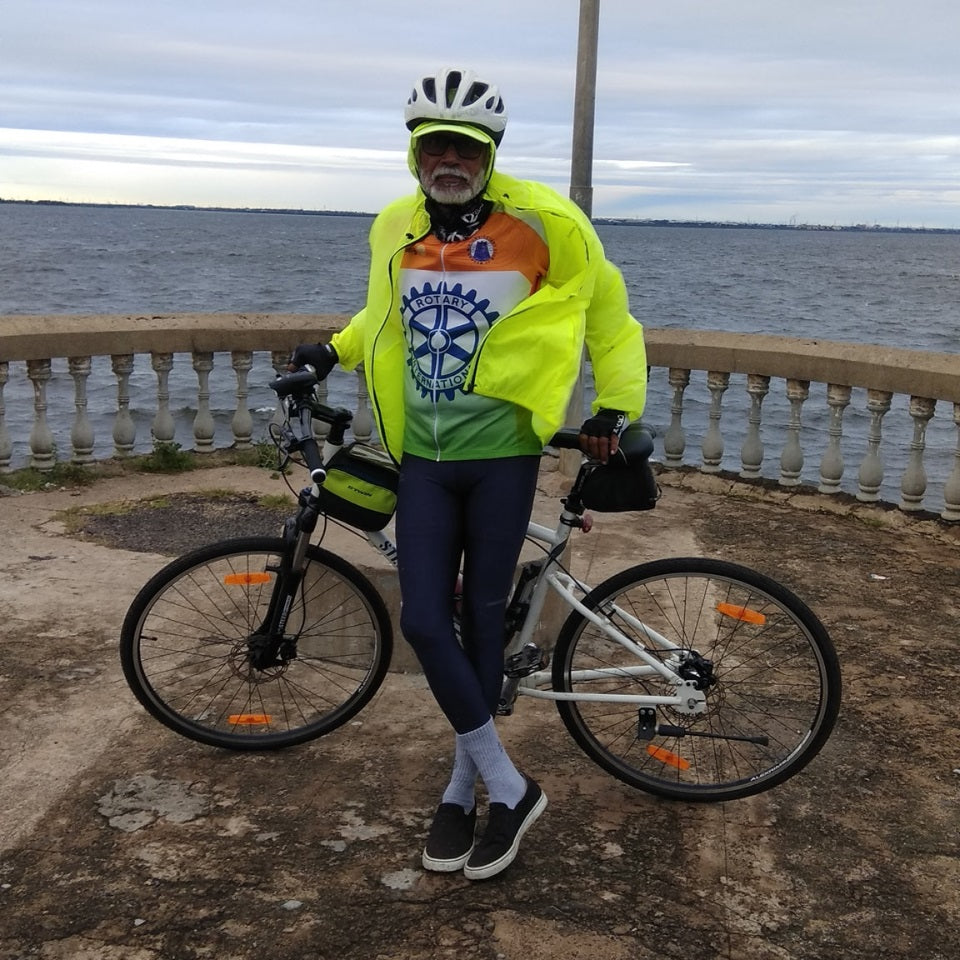 About Author
Ramalingam Rajipillai, 68 years old, Retired Government Officer, took up serious cycling at the age of 62 years. He has successfully completed multiple SR titles, Deccan cliffhanger, toughest ultra-cycling events in India. He has covered from Kashmir to Kanya Kumari and has undertaken many inter-state expeditions. He is known as an ultra-cyclist / endurance cyclist. He rides Steed Chainless Bicycle & Fuji Roadie cycle, which was sponsored by the respective manufacturers.
Cycle is a wonderful machine, so simple but so charming! Even in this modern era, the cycle does not lose either its charm or its usefulness! It is surprisingly a fact that a whole nation, the Netherlands, depends solely on cycles for its day to day activities! Cycle is a mode of conveyance in daily life, and it is a machine to travel distances! The uniqueness is that the user needs to give his/her minimal effort to derive the pleasure of crossing distances!
Wheels are the most revolutionary invention of humans that carried humanity to this level of modernity! Cycle is the very simple and innovative adoption of the concept of wheel in our day to day life!
In my point of view, if a person wants to be known as a cyclist, he or she should have crossed distances by cycle that also enjoying the cycling! I want to be remembered as a cyclist for the simple reason that I enjoyed every bit of almost 80 to 90 thousands km of my cycling, on various terrain of our nation, from one end to the extreme other end! So, if you ask me to define a cyclist, I would say, without any hesitation that
"A cyclist is one who enjoys cycling"
To enjoy cycling, one has to be prepared for crossing distances and should not be intimidated by the enormity of distances! To enjoy cycling, one has to be a nature loving! Then only, as the distance goes behind you, your soul becomes filled with joy and enjoyment! To become a cyclist, one has to have determination in her/his mind! Sleeping on a cosy bed, in the early morning hours may give joy! But, to do cycling and to enjoy it, one has to be ready to forego those things! Yes, cycling is one of the best ways to keep us physically fit! But, you may say that you could achieve your fitness within the four walls of a gym or at your home! It is only cycling and travelling that could rejuvenate your mind and soul simultaneously!
Using cycles to carry out some sundry work and even going to the office is OK! But, a cycle is definitely not meant for these sundry purposes only! Cycling is meant mainly for keeping one's mental health in good shape always! When we start to pedal a cycle, it activates most of the muscles in our body and the internal organs, such as lungs, heart get a new lease of life! When Oxygen loaded blood flows into each and every bit of your veins, you are transformed into a new one!
It is true that any cycle will give you the intended benefits! But, for those who can afford, going for a high-end sports cycle will help you in enjoying cycling for longer years! To enjoy cycling, one needs to have a cycle, proportionate to one's height! A cycle with suitable frame size will ensure your sticking to cycling for longer years and to enjoy cycling! The following chart will give you some idea of choosing the correct size of your cycle. 
Height of a cyclist
Frame size needed
4'11" to 5'3"
13" to 15"
5'3" to 5'7"
15" to 16"
5'7" to 5'11"
16" to 17"
6'0" to 6'2"
17" to 19"
6'2" to 6'4"
19" to 21"
6'4" & above
21" & above
For a beginner, this chart will be useful for selecting the correct size of the cycle. Alternatively, you can calculate your bike size as follows.
Take off your shoes and stand with your legs about 15 - 20 cm apart. Measure the height from the ground to your crotch. Be sure of the cycle bicycle you want: Mountain bike, City bike or Road bike. Now you can calculate the appropriate frame size of your cycle as below:
Your frame size of a City Bike - Leg inseam (cm) x 0.685
Your frame size of a Mountain Bike - Leg inseam (cm) x 0.66
Your frame size of a Road bike - Leg inseam (cm) x 0.70
If your leg inseam is 76 cm, then your right selection of:
Mountain bike size is 50 cm
Road bike size is 53 cm
City bike size is 52 cm
However, it may be kept in mind that as far as bike size is concerned, no rigid rules are there! Slight variation may be there, depending on the brand and models available in the market
Disclaimer
The views, thoughts, and opinions expressed in the text belong solely to the author.